What Is BioTE Bioidentical Hormone Replacement Therapy for Men?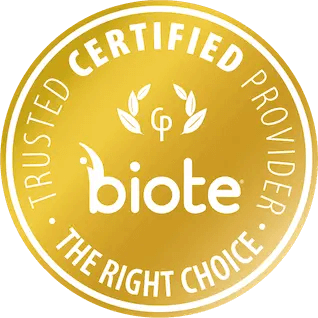 As men age, their bodies produce fewer hormones like testosterone and estrogen. These hormones are vital to bodily functions, such as those related to your brain, heart, bones, reproductive organs, and more. When hormones are out of balance, men can experience many symptoms, including decreased sex drive, sexual dysfunction, fatigue, loss of muscle mass, increased body fat, irritability, bad moods, and more. Bioidentical hormone replacement Therapy (BHRT) with BioTE is a method of restoring the balance of your hormones and aiming to relieve these symptoms using compounded hormones identical in structure to those your body naturally produces.
Bella Rose Medispa in Salem, OR is a certified provider of BioTE, the nation's largest hormone optimization company. BioTE has translated more than 80 years of scientific insight into the foundation of the BioTE Method, which identifies and aims to help with the earliest signs of aging. We at Bella Rose Medispa have chosen to partner with BioTE because we believe our patients deserve the best, and BioTE is one of the only hormone optimization companies actively contributing to furthering the science behind hormone optimization. As part of the BioTE promise, we work with each of our patients on an ongoing basis to analyze their symptoms and lab results using customized dosing to develop a unique, personalized treatment plan for each patient.
How Is BioTE Hormone Replacement Performed?
The BioTE method uses pellets about the size of a grain of rice for hormone optimization. Following a consultation and blood work to confirm that you are a good candidate for this treatment method, Dr. Elizebeth Harmon or a skilled team member at Bella Rose Medispa will insert these tiny pellets under the skin during a simple, in-office procedure. The pellets will then dissolve slowly over time and only need to be readministered about every 3 – 5 months. As the pellets dissolve, they release a steady stream of hormones into your bloodstream and will be completely absorbed.
Bella Rose Medispa Reviews
Great experience! Had a hdro facial with Rebecca. Really made a big difference!
Dr Harmon and her staff are the best of the best in wellness especially for women. When I'm there I feel cared for as a whole person. Dr Harmon takes time to listen in a way I have not experienced with other doctors or healthcare providers. She truly cares about me as a patient and a person.
I am extremely happy with the treatments I have received at Bella Rose. The entire staff if friendly, knowledgable, and helpful. The office is clean and the ambiance is relaxing and calming. I highly recommend them!!
Very knowledgeable and professional
Becca was amazing! She got my skin so clean and smooth, and had some great insights into how to maintain healthier skin.
Get In Touch
Get Started with BioTE for A Better, Healthier You
Getting started with hormone optimization is easy! Contact the team at Bella Rose Medispa in Salem, OR today to discuss if you may be a good candidate for hormone optimization. After getting in touch with us, you will fill out a simple health assessment and schedule bloodwork to evaluate your current hormone levels. As a BioTE certified provider, we will review your lab results with you and develop a personalized care plan based on your results and health goals. Most people see results after their first round of pellets; however, it may take up to four pellet insertion treatments before experiencing their desired results.
Learn More About Bella Rose Medispa
About Us